New customers only | Max £20 cash refund |  Bet must be placed in first 7 days of account opening | Payment restrictions apply | T&Cs apply.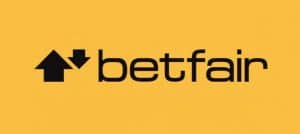 Whether you are an online gaming beginner or veteran, the betting house Betfair has something to offer you. Betfair is one of the largest online gaming companies in the world with sectors ranging from sports betting, horse race betting, and an online casino all the way to user vs user betting in the Betfair Exchange. The house provides a wide variety of markets with player-friendly odds. Additionally, the house has one of the most generous welcome bonuses in the industry! As such, Betfair is worth trying out if you are interested in online gambling. This article includes a general review of the house as well as specific focus on the Betfair welcome bonus for UK players. 
Why should I bet with Betfair?
Betfair is a trustworthy company for depositing and betting your money. As mentioned, the award-winning company stands at the top of the industry in size and popularity: boasting over 4 million registered users and 1.1 million active users. The house is licensed by the Gibraltar Gambling Commissioner as well as the United Kingdom Gambling Commissioner, meaning the company is compliant to all governing laws and regulations. Additionally, Betfair is a publicly traded company on the London Stock Exchange; a far cry from betting with a shady bookie. This all means you are sure to be treated with respect, equity, and collect on your winnings in a fair and timely fashion. 
Strengths of Betfair:
Betfair is known by professional and casual gamblers alike for its reliability and consistency. The house offers a large variety of withdrawal and deposit methods, over 30 different sport betting markets, as well as pre-game, live, and player vs player betting. Within the house you can make both single and combination/parlay bets. Betfair is available to players in a large number of countries and covers leagues and sports from the NBA to international horse racing. If that isn't enough incentive to trust Betfair with your business, one of the largest welcome bonuses in the industry certainly should.
Below you can find the deposit and withdrawal methods that are compatible with Betfair: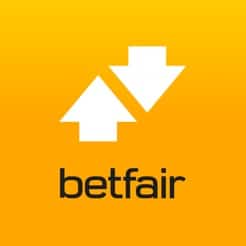 | | | |
| --- | --- | --- |
| Method | Deposit | Withdrawal |
| Visa (Credit & Debit) | Yes | Yes |
| Mastercard (Debit) | Yes | Yes |
| Maestro | Yes | Yes |
| PayPal | Yes | Yes |
| Skrill | Yes | Yes |
| Neteller | Yes | Yes |
| PaySafeCard | Yes | NO |
| Bank Transfer | Yes | Yes |
| Check | Yes | NO |
Betfair's Weaknesses:
Betfair is a solid choice for online gaming, but there are a few weaknesses you should keep in mind. Aside from the standard drawbacks of any online gaming website, Betfair's biggest weakness is the transaction fees you may have to pay on your deposits. While the company offers free transaction fees for most payment options, there is a 1.5% fee on debit/credit deposits and a 2% fee on Paypal deposits. Be sure to keep an eye out for this when you are depositing or withdrawing funds!

The Betfair Welcome Bonus
New customers with Betfair have the opportunity to earn up to £100 in free bets in the sportsbook sector of the site. Read on to learn about redeeming this bonus, its value, and the restrictions.
In order to be eligible to earn the bonus you simply need to register with Betfair and enter the bonus code listed above.
To do this, 

go to the website

 and click "Join Now" or "Register", you will be redirected to a sign-up form (use accurate personal information when signing up).
The form should have the welcome bonus code automatically applied; if not, use the code "ZBBC01".
Earning the £100 bonus:
Once you've applied the bonus code and created your account with Betfair, you need to deposit funds and place a certain number of qualified bets to earn your £100 in freebets. Below you can find all the restrictions and rules you need to follow in order to get those freebets!
This promotion is paid out in 5 installments of £20. To earn one of the £20 installments, you need to place 5 different bets of at least £10 on matches with odds of 1/5 or higher.
That is, to earn the full £100 in freebets, you need to place 25 bets of £10 or higher.
Restrictions on the freebets:
If you want to maximize the value and winnings earned from the welcome bonus, it is important to understand the restrictions on the freebets.
You must wager at least £10 on a bet with minimum odds of 1/5 to have bet count towards earning the bonus.
You must place earn and play your freebets within 30 days of signing up for the account. The free bet bonus will be void after 30 days and any freebets outstanding will also be removed from your account.
One bonus can be redeemed per household.
You must be over 18 to gamble with Betfair.
How would you rate the Betfair welcome bonus? Vote :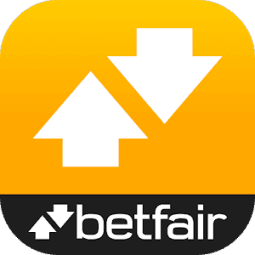 The Betfair Mobile App:
Are you interested in sports betting on the go? Being able to place at a pub, a mate's house, or even from your own couch? Well, Betfair has just the thing: the Betfair Mobile App. Whether you're a new or you're already a client of Betfair, you should add their mobile app to your phone: its convenient, secure, and offers seamless navigation.
Reasons to download the Betfair Mobile App:
The app is completely free to download
Betfair's mobile app offers the same events, odds, and fluid navigation as the desktop version or online mobile web page.
Betfair's app saves cellular data and refreshes quite fast, so you can catch the best odds before someone else does!
Betfair's mobile app has special in-app offers only available for the mobile version.
Best of all, the mobile app lets you place a live in-game bet on pre-bet on a game yet to be played. This app can be key in capturing the most favourable odds and payouts.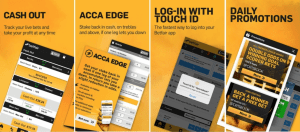 How to Download the Betfair App: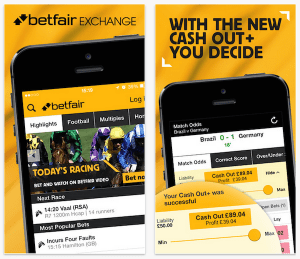 For iPhone & iPad (iOS devices):
Downloading the Betfair mobile app for your iPhone is like installing any other application onto your phone.
First, open the App Store on your iPhone
Search the store for "Betfair"
From there, you can install the app, read reviews, or about its features.
For Android Devices:
For Android Devices, downloading the Betfair App is a little more challenging, but still simple and straightforward.
The Google Play store doesn't allow online gambling apps of any kind on its store. Instead, you must go to the house's website and install the .apk file from there. Don't worry, from the Betfair website, the app is totally safe and easy to download.
Turn off the setting on you Android that prevents foreign downloads. This can setting can be turned back on after you have the Betfair app loaded on your phone.
Log in and enjoy everything app has to offer!
Contact Betfair:
 Before you call or write Betfair, check to see if your question or issue is part of the extensive FAQ section. If you can't find a solution there, you can call, live chat, or email a Betfair representative.
Countries and currencies permitted by Betfair:
Countries:
Armenia
Australia
Austria
Belarus
Belgium
Bosnia and Herzegovina
Brazil
Bulgaria
Costa Rica
Croatia
Cyprus
Czech Republic
Denmark
Egypt
Estonia
Finland
Georgia
Germany
Gibraltar
Greece
Guatemala
Hungary
Iceland
Ireland
Italy
Latvia
Liechtenstein
Lithuania
Luxembourg
Macau
Malaysia
Malta
Mexico
Netherlands
New Zealand
Panama
Peru
Philippines
Poland
Romania
Russia
Saudi Arabia
Slovakia
Slovenia
South Korea
Spain
Sweden
Switzerland
Taiwan
Thailand
Ukraine
United Arab Emirates
United Kingdom
Currencies:
Australian Dollars (AUD)
Danish Kroner (DKK)
Euro (EUR)
Hong Kong Dollar (HKD)
Swedish Kronor (SKK)
UK Pounds (GBP)
US Dollars (USD)
Our thoughts:
As far as online gaming companies are concerned, Betfair is one of the most reputable. You can trust Betfair with your business and rest assured that there won't be any scams when it comes to your money. Not only is the company safe to bet with, but the welcome bonus also provides quite the incentive for new users. If you are already registered with Betfair, don't worry, there are always special customer loyalty deals and bonuses for current users. Betfair can be accessed by residents from a large number of countries around the globe and the deposit and withdrawal system could not be simpler. Finally, Betfair's mobile app is quite good and has just as much to offer (if not more) than its desktop version. Betfair also offers its special "Acca Edge" program, designed to give you the most bang for your buck, even if you lose. Check out the video below to learn more about Acca Edge. 
If you like what Betfair has to offer, give it a try! Keep in mind, making an account with Betfair can give you access to the casino as well as the player vs. player betting platform called Betfair Exchange.
Was this review of Betfair helpful? Vote :